OUR MANUFACTURING CAPABILITIES
When it comes to developing new, untried, or untested ideas, collaboration with expert resources is critical to product success. MTI is ready to assist you at any phase of your manufacturing process. Our expertise extends from aiding in the selection of raw material, to designing tools and parts, to quality assurance and testing.

The right solution to your product not only can assure long-term durability, but can reduce your costs as well. For example, our proprietary process combining deep-draw, spinning, and forging can eliminate the extra material and machining costs associated with conventional fabrication methods.

We have the flexibility to react promptly to your changing requirements and complete your project in a timely manner. We have the versatility to handle short production runs as well as long ones, cost-efficiently delivering the right number of parts for your needs.
WE MAKE CUSTOM PRODUCTS FOR COMPANIES LARGE AND SMALL
REFRACTORY METALS
Refractory metals are as old as the Earth. With innovative, proprietary technologies, Metal Technology (MTI) makes it possible to use these high-temperature, corrosion resistant metals for a wider range of applications in more industries. Our specialized deep draw forming, spinning, forging, machining, and fabrication methods deliver superior products to your exacting specifications for less money and with less waste. From
crucibles
, tubing and vessels to custom parts, our products serve the following industries and more:
Vacuum Coating
Defense
Aerospace
Nuclear
Scientific
Neutron analysis
Medical
Semi-conductor
Superconducting
Chemical Process Industry (CPI)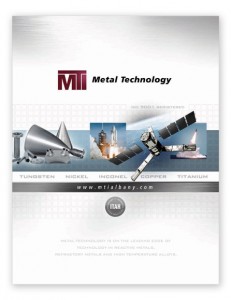 PRECISION DEEP DRAW FORMING
Metal Technology specializes in deep draw forming of refractory and reactive metals, a process that eliminates seams and the problems associated with welded assemblies. With our extensive deep draw tooling inventory we can produce parts with:

• Diameters from 0.250" and up
• Wall Thicknesses of 0.004" and up
• Length-to-Diameter ratios up to 20:1 or more.

This tooling, coupled with our 40 years of experience, has expanded our ability to meet your deep draw needs – from standard round vessels and tubing, to those parts that go beyond common shapes, including multi-diameter tubes, hemispheres, nozzles, and cones.

CNC PRECISION TURNING & MILLING
Computer Numerically Controlled (CNC) equipment for turning and milling is one more step in MTI's continuing efforts to maintain our position on the leading edge of technology. This equipment allows the most exacting tolerances, up to .0005"; increases productivity; and provides a cost savings to you by producing complex parts with near-zero reject rates.

Additionally, MTI eliminates the use of hazardous chlorinated cutting fluids in the cutting and milling process. This safe environment joins our other production areas in protecting MTI's greatest asset, our employees. All CNC equipment is networked into our CAD/CAM Mastercam programming center for a direct link from engineering to manufacturing.
FORGING
Forged parts offer a number of advantages over those machined from solid bar. Given the high cost of refractory and reactive raw materials, the near net-shape forgings we can produce result in substantial cost savings.

Additionally, the mechanical properties of forged parts are often increased due to true grain flow, reduced porosity, and more consistent parts with less machining required. Also, refractory metals have more resistance to creep in high thermal environments if they have been forged.
SPINNING
MTI incorporates power spinning with state-of-the-art machinery to ensure the precision and accuracy of your formed parts. These parts include any configuration of seamless conical shapes, such as rocket nozzles, skirts, and flanged vessels. Using a combination of deep draw, spinning, and machining processes, we can produce high-quality formed parts with uniform wall thicknesses.

PUNCH PRESS
We have the capability to design and produce the necessary tooling for punch press work, for small quantities and larger production runs. An example of our punch press work is the zirconium element cup we helped design for a nuclear energy application (pictured at right). This part required a unique design consisting of knockouts, raised flanges, and "dimples" with multiple radii. To successfully complete the project, we established the raw material specifications, including grain size and heat-treat sequences. We also designed and fabricated the more than 100 pieces of tooling necessary to produce a final part.

Do you have a complicated project similar to this? If so, contact Metal Technology. Our team of engineers, craftsmen, and quality-assurance staff specializes in just such innovative projects.


WELDING & FABRICATION
Refractory and reactive metals are some of the most challenging materials to weld. Close control is essential to ensure the integrity of the joint and heat-affected zone. MTI welders have the experience necessary to meet that challenge. We utilize arc, tig, gas, inert atmosphere, and vacuum-tank welding processes to meet your firm's needs. On most welding projects, MTI designs and fabricates the welding fixtures. We also design and fabricate the assembly, pressure-test and inspection fixtures, along with any other tools that might be needed.
SHORT-RUN TUBING
Because of our extensive expertise with military applications and tube forming and bending for the aerospace industry, we are now on the leading edge with several state-of-the-art technical advances to our name. Concentrating our efforts on reactive and refractory metals, we developed a modified compression bend to replace the conventional tension bend. The result is more precise bends and a near-zero reject rate. Our tube-bending process includes an automated draw-type bender ensuring precision bends, minimized wall thinning, and extended length capability.

Tube-bending capabilities include diameters from 0.375″ to 1.50″. This range, coupled with our deep draw forming capabilities, can provide you with almost any size tubing. We also excel at manufacturing precision "pull-out" tubing tees that are far superior to welded-on saddle tees. Because they are stronger, we minimize cutting and fitting costs and produce better flow characteristics.
WATER JET
Our OMAX JetMachining® Center is perfect for virtually any job requiring maximum material yield with minimal waste. This technology cuts smooth, precise edges in any two-dimensional shape from .DXF files, CAD files or scanned images with repeatability requiring no secondary processing.
We can provide waterjet cutting services for a wide range of materials such as hardened tool steel, aluminum and titanium; exotics including carbon fibre, ceramic, Inconel® and composites; or architectural materials such as marble, granite, glass, tile, and stone.
Our services are ideal for fast-paced demands such as aftermarket automotive, motorcycle and aerospace parts. Quick turnaround with almost no set-up time offers the flexibility you require for prototyping, limited runs or production parts.
For more information please check out our
Water Jet Cutting Services Flyer
.
ELECTRICAL DISCHARGE MACHINING (EDM)
Metal Technology offers Electrical Discharge Machining services, commonly known as EDM. Well suited for difficult-to-work metals such as
tantalum
, niobium, titanium, molybdenum, carbide and others, EDM can produce many parts more economically than conventional machining.
Small odd-shape angles and detailed contours or cavities are possible with EDM, even in hardened steel and conductive exotic metals. Tapered holes, high precision dies and complex 4-axis shapes and molds can be produced. Small difficult configurations can be achieved with extreme precision.
Offering a wide range of EDM services including EDM drilling as well as sinker machining and wire EDM, Metal Technology can achieve high accuracy and tight tolerances to your required specifications with absolute accuracy and repeatability.
ADDITIVE MANUFACTURING (DMS)
• Precision laser melting
• Increased productivity, repeatability and flexibility
• Access to a wide range of metals and alloys
• Unmatched design and manufacturing freedom

Direct Metal Sintering is an additive manufacturing technology with the ability to build your parts in a matter of hours.

This latest technology utilizes a variety of metal and alloy materials to create strong and durable parts from your 3D CAD data without the need of tooling.

Metal parts designed with this technology have the design versatility of layer additive manufacturing that produces highly accurate and detailed parts with geometries not possible to produce before.

This technology is ideal for the production of prototypes and components with fine detail, for high temperature applications, aerospace components and custom components for motor sports and medical applications.

DMS is ideal for prototypes as well as production parts.