TANTALUM CRUCIBLES
Tantalum is one of the most corrosion-resistant metals available, as it resists most acids and biological specimens. It is an excellent material for analytical laboratory work.
(Read more)
Zirconium Crucibles
Zirconium is probably the most effective crucible material for fusions using sodium carbonate or sodium peroxide.
(Read more)
Nickel Crucibles
In the analytical laboratory, nickel crucibles can replace platinum in fusions where you cannot use zirconium. Nickel resists strong alkalis and phosphoric acid.
(Read more)
Inconel® Crucibles
Inconel® is a nickel-chromium alloy and excels at resisting oxidation at temperatures up to 1000˚C. The metal also resists many acids and aqueous solutions.
(Read more)
Molybdenum Crucibles
Molybdenum resists most non-oxidizing acids and provides an effective barrier to many molten metals. It enables you to perform high-temperature fusions in a vacuum or inert atmosphere at temperatures approaching 2000˚C.
(Read more)
OTHER LABORATORY PRODUCTS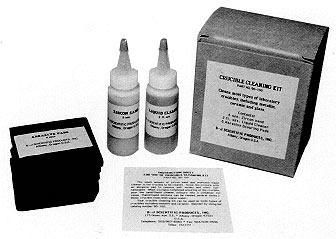 Crucible Cleaning Kits
Crucible cleaning kits contain all the material you need to safely clean most types of laboratory crucibles, including zirconium, nickel, molybdenum, tantalum and platinum, as well as ceramics and glass. Kits also include a supply of liquid cleaner, a variety of abrasive materials, and complete instructions.

Part Number: 90-100
Price: $18.15