Another Step Forward In Aerospace Additive Manufacturing
Metal Technology (MTI), has partnered with University of California San Diego student organization, Students for the Exploration and Development of Space (SEDS). This partnership between MTI and SEDS was formed so that MTI could contribute aerospace additive manufacturing services to aid in the construction of Triteia – a semiautonomous, chemically propelled 6U CubeSat competing in NASA's Cube Quest competition. SEDS has elected to construct Triteia's engine through additive manufacturing using direct metal laser sintering (DMLS). Triteia's engine, Callan, will be made from Inconel 718.
Just last week, SEDS was awarded third place in the second ground tournament in the NASA Cube Quest competition. Cube Quest is comprised of two phases: ground tournament and in-space tournaments. The Ground Tournaments serve as progress checks, and are held every six months, leading to an opportunity to be selected as one of three allocated slots on NASA's Orion capsule's first unmanned lunar flyby, Exploration Mission-1 (EM-1), planned for launch in 2018. Ground Tournament 3 is scheduled for the Fall of 2016.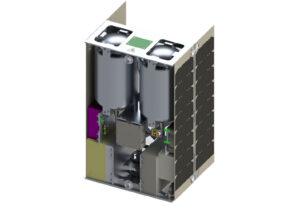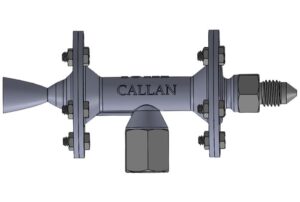 Paving The Way For Aerospace Additive Manufacturing
We recently had the chance to catch up with SEDS Officer of External Affairs,  Darren Charrier, and SEDS Media Team member, Rohit Ghosh, to discuss their organization's recent success with Triteia. He gave us an update on the current phase of the Triteia project, what's next, and how MTI's experience with aerospace additive manufacturing has helped along the way.
MTI: Where is your team currently at with the project? 
SEDS: "We recently finished the preliminary designs for the satellite, and we are now entering the prototyping phase of our project. The prototyping includes printing off our engine and testing it, fabricating a ground model of our power system, creating the software that will run our satellite, and beginning the prototyping of our communications system. I believe it is important to note that NASA engineers, MTI, Qualcomm, Space Micro, and Innoflight, have all been helping us with our prototyping and developing our designs."
MTI: What is left to be done regarding your research and the printing of the engine? 
SEDS: "We are pretty much ready to print the engine, but we are waiting for confirmation from our NASA advisers to give us the "thumbs up". We recently got back our score from the second ground tournament of the CubeQuest competition, and the NASA judges listed the engine design and implementation plan of our engine as one of our top strengths of the satellite."
MTI: How has MTI helped your organization achieve your goals of advancing space exploration? 
SEDS: "As I mentioned earlier, the engine is one of the strongest selling points of our satellite. Very few 3D printed engines have ever flown in space before, let alone on a spacecraft that is as small as ours. MTI has done an excellent job of working with the SEDS' propulsion team to develop a forward thinking engine that is optimized for 3D printing. MTI's staff is great at responding to our questions with constructive feedback that has with out a doubt been critical in producing our award winning designs."
Check out the full interview with Darren Charrier and Rohit Ghosh below:
About Metal Technology (MTI)
With more than forty years of experience applying innovative, proprietary technologies, Metal Technology (MTI) is making possible the use of difficult alloys for a wider range of applications with greater efficiency, versatility, and reliability. Alloys include Tantalum, Niobium, Zirconium, Titanium, Tungsten and Molybdenum. MTI uses specialized deep-draw, spinning, forging, machining, EDM, and additive manufacturing methods to deliver superior products according to your exacting specifications.
Contact us for more information on our additive manufacturing initiatives.