EMPOWERING THE EXTRAORDINARY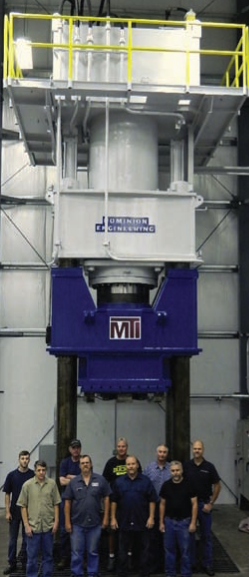 Back in 1971 Jim Nydigger, Metal Technology (Formerly BJ Enterprises) founder, was told that he couldn't cold-form zirconium. Jim was the kind of person who enjoyed a challenge and especially enjoyed doing what folks said couldn't be done – you see, he believed that Zirconium had enough ductility to withstand cracking during extreme deformation at room temperature. So, Jim set out to prove his theory by spending countless hours trying different techniques in his shop behind his family's home. His trials proved valuable, probably more valuable than he imagined. Not only did he develop the process of cold-forming the metal but he also was able to market his work in the form of uniquely drawn laboratory crucibles.

The same challenge that drove Jim Nydigger over fourty years ago continues to drive Metal Technology (MTI) everyday. The 44-year-old company now produces crucibles and other unique products through a worldwide distribution network to the scientific community. Over the years MTI has continued to expand on Jim's thirst for challenge and innovation to include a wide variety of product forms into some of the world's most demanding applications.

Today, MTI creates products using proprietary deep-draw forming, forging, spinning, CNC machining, and additive manufacturing methodologies to produce custom designs in virtually any configuration based on customer specifications. MTI's equipment and extensive tooling inventory allow it to offer both low and high quantity production runs at very competitive prices.

MTI employs a highly skilled production team that translates ideas into solutions, for even the most challenging operating conditions. MTI understands the iterative process required to develop and deploy very complex products and would love to work with your engineering team to create optimum results throughout the project and ensure that we are meeting your expectations at all levels.



ADHERING TO THE HIGHEST STANDARDS
MTI is proud of its reputation for high-reliability and quality. It begins with the quality management system based on AS9100/ISO 9001:2008. It's what has enabled us to achieve award-winning results on many challenging projects for iconic brands including Lockheed Martin, Aerojet Rocketdyne, Honeywell International and NASA for example.

MTI's calibration systems are designed to MIL-STD-45662 — standards set by the National Institute of Standards and Technology. Further, MTI's in-house quality management team is qualified in using non-destructive testing techniques (NDT) per MIL-STD-410 requirements.



TAKING CONFIDENTIALITY SERIOUSLY
The MTI team understand the need for confidentiality and intellectual property protections. MTI routinely works with contracts that require strict protections and controls. Your project is always safe with MTI.


Did you know?
MTI cares deeply about meeting customer expectations and all employees take part in a monthly bonus pool for on-time delivery.

Because of the company's commitment to enable our customers to achieve extraordinary results, MTI has embraced the slogan "Dependable Innovation", and we stand by it !



"Thank you for all your help in developing a solution for us."

Randy, Molycorp

"As always, a great job and thank you."

Willie, Praxair

"I really appreciate your help to meet our budget. Thank you for going the extra mile."

Matt, Los Alamos National Lab

"Thank you very much for the expedited response. I only wish more of our suppliers were this professional! It is greatly appreciated."

Christopher, Rockwood Lithium

"Thank you for your assistance once again, as always we can count on the Metal Technology team."

Marc, AfriFusion

"In the short time we have been forming this relationship, all I can say is WOW, I am really impressed--YOU guys are the best. I am really looking forward to the future and possible projects with you guys."

Daryl, Van's Aircraft

"It has been great working with you. MTI is a class operation, and in the top-5 suppliers I have dealt with in my career."

Karl, Honeywell